Our activity consists in four main areas - Development of Software and Internet sites Configure Internet servers , Repair and maintenance of computer equipment , refilling and recycling of toner cartridges.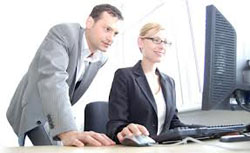 The company works mainly with clients in the city Pleven region (Bulgaria). All our customers in the city . Pleven, who have trusted our support can rely on quick consultation and problem solving on the spot during the day of the received call.
We offer software development in your request . More information on the major developed applications can be found in the Software . Configure and build Internet servers using the Linux and Windows Server for distributed Internet between home and business users.
Since 1990, the company operated under the name - VLV Automation. In 2009 the companies merged in Vikom 82 with extended activities - repairing computer equipment and electronics.
Trust us and you will see that computer support can be a cheap and good quality !